---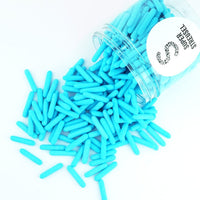 Super Streusel Rods- Dull Blue
BurntIslandOccasions
Another world first! In addition to the matt pink sugar sticks, the matt sugar stick family has finally grown and welcomed: light blue !!

 We now have the sugar sticks with the raw pasta in the middle in matt and light blue! 

A pastel blue dream, with which you will show at the next JungsBabyParty, baptism or GenderRevealParty, where the noodle is hidden :)

What you can also do really well with sugar sticks: put letters (I HERZU U), names or shapes (stars, squares, hearts).

Who doesn't know it yet: In this sugar stick you will find a thin raw noodle. 

Yes, you heard that right. Raw noodle, sugar around it & baked in. A crazy decorative baking ingredient, but it looks adorable and can be nibbled away 1A.

Matte sugar sticks are one of the nicest, but also the hardest, what our super crumble mixes have to offer. So enjoy with care!
Additional product information
Weight 90g
Ingredients: sugar (82.3%), WHEAT semolina, stabilizer: gum arabic; Dye: E133; may contain traces of NUTS, MILK and SOYA.
Nutritional values
Energy & nutrient content per 100g: Energy: 1659 kj / 391 kcal; Fat: 0.3g, of which saturated fatty acids: 0.1g; Carbohydrates: 94.3g, of which sugar: 82.9g; Protein: 2.3g; Salt: <0.01g